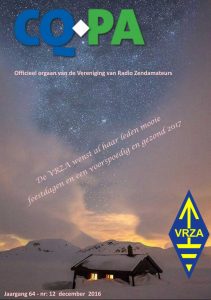 Heeft u een leuk artikel over de radiohobby of een zelfbouwproject dat U wilt delen met uw mede amateurs, ook foto's over de hobby, voor de voorpagina!!
stuur deze naar de redactie.
Ook is de redactie opzoek naar versterking b.v. voor een HF/VHF/UHF rubriek, vindt u dat leuk om daar over te berichten in de CQ-PA neem dan contact op.
Uiteraard is het ook mogelijk om een project of schakeling die u gemaakt heeft, te publiceren in ons maandblad..
Maak van de CQ-PA weer een blad van, voor en door amateurs. Wij kunnen niet zonder U
klik op de foto om de CQ-PA te downloaden!!