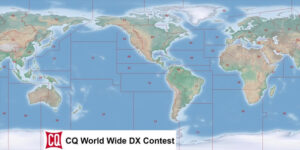 Komend weekend 28 oktober 2022 van zaterdagmorgen 0000 GMT tot en met zondagavond 29 oktober 2359 uur is het weer tijd voor de CQ WW SSB Contest.
Zie ook op https://www.cqww.com/
Dit is zo'n beetje de contest met de meeste deelnemers wereldwijd. Her en der worden stations opgebouwd en hoor je testen. Is er een lijst met wat te verwachten zodat we kunnen uitkijken naar een bepaalde DXCC entiteit? Ja: kijk op: https://www.ng3k.com/Misc/cqs2023.html
Verder is er natuurlijk ook nog info te vinden op de site van 'The Italian Weekly Bulletin for Serious DXers': https://www.425dxn.org/
Geen liefhebber van contesten, maar wel de korte golf? Dan is er zeker reden om eens op 60, 12, 17 en 30 meter te kijken of de seinsleutel (en de vaardigheden) op te poetsen, digitale modes te proberen of andere activiteiten te ontplooien.
Zo is er zaterdag ook de Dag van de Radioamateur in Zwolle: https://dvdra.veron.nl/
73, Jaap Verheul PA3DTR