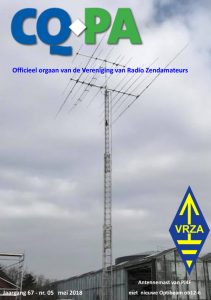 De vakantie periode gaat aanbreken, het wordt weer tijd om naar buiten te gaan.
Neem de set mee, ga naar buiten, een antenne in de boom gooien en kijken of je iemand kan werken tijdens je vakantie.
Misschien en dat ogenblik van rust een  leuk artikelen over de radiohobby of een zelfbouwproject lezen? Misschien zelfs wel een verhaal over een zelfbouw project schrijven. Wilt U dit ook delen met uw mede amateurs,  schrijf het dan op papier en stuur dit eens naar de redactie. redactie@cq-pa.nl
Voor de voorpagina van CQ-PA zoeken wij ook steeds foto's, dat mag van uw home made project, eindtrap, uw antenne installatie, velddag of contest zijn..
Maak van de CQ-PA weer een blad van, voor en door amateurs.
Wij kunnen niet zonder U.
Klik op de foto om de CQ-PA te downloaden!!