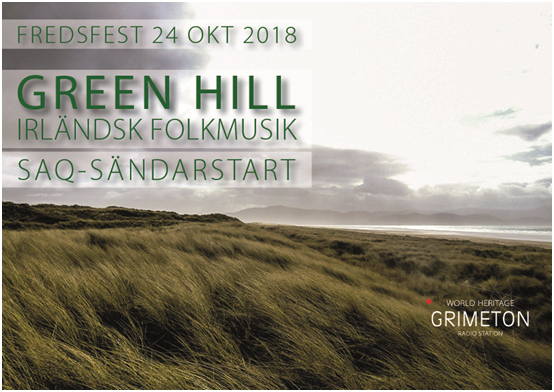 Een brullende machine, morsecode en Ierse folkmuziek – vier 24 oktober, de dag van de Verenigde Naties, op de werelderfgoedlocatie Grimeton!
De zoektocht van mensen naar contacten en snellere relaties tussen elkaar is onvermoeibaar. Een bewijs hiervan zijn de vele pogingen om een ​​telegraafkabel op de bodem van de Atlantische Oceaan te leggen voordat het schijnbaar onmogelijke project eindelijk werd geland – de verbinding tussen Europa en Amerika werd gelegd, van Ierland tot Newfoundland, en in augustus 1866 geopend voor telegramverkeer.
We vieren dit geweldige evenement in internationale relaties door een vredesboodschap naar de wereld te sturen met de SAQ, de langegolfzender en vervolgens een concert in de Ierse volksgeest met de Varberg-band Green Hill.
Evening program
18.00 The world heritage opens
18.30 (16.30 UTC) all visitors are greeted welcome  and the long wave transmitter SAQ is started
19.00 (17.00 UTC) a peace message is sent out*
19.15 (ca) concert with Green Hill
Free entrance. Arrive in time as there are limited amount of seats.
Welcome!
De uitzending is op 17,2 kHz CW.
Je kunt ook een live videostream van de uitzending bekijken op www.alexander.n.se.
Er zullen deze keer geen QSL-kaarten worden gegeven en er zal geen lijst met rapporten worden gemaakt, maar we accepteren een kort verslag van luisteraars naar e-mail: info@alexander.n.se.
*The world heritage site Grimeton is a living cultural heritage. All transmissions with the long-wave transmitter SAQ are therefore preliminary and may be cancelled with short notice.