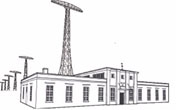 News from
the Alexander Association
Grimeton SAQ Veteran Radio Friends
www.alexander.n.se
SAQ Grimeton Transmission on October 24th, 2020

.
On the United Nations Day, October 24th, 2020,
the SAQ transmitter in Grimeton will again send
out a message to the whole world on
17.2 kHz CW.
Programme:
16:30 (14:30 UTC): Startup and tuning of the Alexanderson Alternator SAQ.
17:00 (15:00 UTC): Transmission of a message from SAQ.
17:20 (15:20 UTC): Live music concert from the transmitter hall.
Anna Louise Ekman www.annalouiseekman.se will perform Swedish and Italian songs, accompanied by a pianist.
The entire transmission event and the following concert can be seen live
at our YouTube Channel starting at 16:30 (15:30 UTC).
*The world heritage site Grimeton is a living cultural heritage.
All transmissions with the long-wave transmitter SAQ are therefore preliminary and may be cancelled at short notice.